The First Icelandic Clarinet Festival – Organized Around a Master Class With John McCaw

Musician's Union Hall, Reykjavík, August 30 – September 1, 2002

Thorir Thorisson
Reykjavík College of Music, Reykjavík, Iceland
E-mail contact: <thoris@ismennt.is>
WWW:<www.ismennt.is/not/thoris>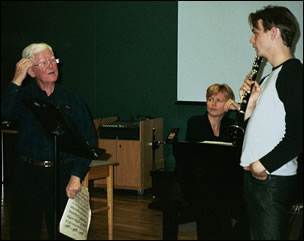 The busy schedule of this event was only for the genuine clarinet enthusiasts to endure. To none, however, was it a greater challenge than for the 84 years old master teacher, John McCaw of London, who for two consecutive days tirelessly poured out of his sixty years of clarinet wisdom to appreciative participants; adding to the feat by performing in a concert on the third day.

John McCaw, over three decades principal of two of London's leading orchestras and for a somewhat shorter period a professor at the Royal College of Music, has a long connection with Icelandic musical life. He appeared as a soloist with the Iceland Symphony Orchestra in 1976 and taught some of the country's chief clarinetists, including ISO's current principal, Einar Jóhannesson, who with his colleagues Kjartan Óskarsson and Sigurður Snorrason formed the omnipresent team of organizers of the conference.

In addition to McCaw's master class the event included a concert with contemporary Icelandic clarinet music performed by some of the country's top players, a clarinet choir of participants and amateurs, an exhibition of old instruments, and a small fair. The last four decades have seen some interesting pieces by Icelandic composers who have been enthusiastic writing for the instrument. The concert included a few oddities, such as a new solo piece for bass-clarinet alone, a solo piece for a regular clarinet accompanied by prerecorded whale song, and a duo for basset-horn and cello. It ended on a classical note though, with Mozart's Adagio KV 411 performed by John McCaw, Einar Jóhannesson and the excellent Chalumeaux-trio of three basset-horns. Furthermore, the author gave a brief lecture on the short history of clarinet playing and teaching in Iceland, followed by an armchair discussion with Gunnar Egilson the sole survivor of the first generation of professional clarinetists in Iceland, and previous principal of the Iceland Symphony Orchestra. This article culminates with a short account of the two.

Active participants in the master class were seven young Icelanders, some still studying at the Reykjavík College of Music, others currently studying abroad at leading European conservatories. McCaw is no different from other master teachers in that 80% of his teaching time is devoted to details; nitty-gritty which in the end will make the difference between average, good and excellent performance. Although getting away with nothing but their very best efforts in pieces ranging from the Brahms sonatas to Messiaen's Abîme des oiseaux and Berio's Lied, the students appreciated the old master's ruthless attention to technical and musical detail, mixed with encouraging remarks, and frequent invitations to offer their own opinion. Having never met the students before, his quick grasp of each one's most immediate problems and needs was admirable. It might be improving articulation and blowing with one student, working on a musical problem related to the pieces with others, e.g. gradations of dynamics in Brahms or timing of crescendi in Debussy's Rhapsody. Some of McCaw's frequent questions and remarks over these three days will give a flavor of his teaching style: "Does this work for you ...?" "Do you feel this is the way it should go...?" "What do you think about this tempo of the third movement?" "Lot of this is very operatic, would you agree with that?" Some were more directive and technical: "Try this D''' with the b-key not the e-flat-key." "Ignore these notated rests and they will sound about the right length." "Extreme piano and forte are special effects ... play us a note and we will guess its meaning." But master classes can be a pain, however sensitive the teacher. "I am totally confused" admitted a young lady, after too many details over one phrase, and the good teacher had the sense to call it a day and go on to something else. In recognition of MaCaw's contribution to Icelandic clarinet playing and musical life he was awarded the gold medal of the Musicians Union at the close of his master class.

The Clarinet in Iceland
A nineteenth century autobiography of an eminent Icelandic writer and intellectual has it, that the first clarinet in Iceland was not imported from continental Europe as might be expected, but actually locally made around 1830 by a smart and eccentric farmer. If lacking in scholarly validity the account is humorous:
On the farm of Urriðakot north of the town of Hafnarfjörður lived farmer Páll Árnason, known to us boys as "Clarinet-Páll." He was inventive, skilled, eccentric, musical, and given to the making of trivial things such as a device for grinding tobacco out of which he constantly fed his nose ... and a clarinet which he sometimes brought along and played hymns upon ...(1)
"Trivial" as it was to the utilitarian farming society of the day, there is small wonder that farmer Páll's clarinet did not survive, and has no ancestors. The biographer's words have some weight though, he was a son of a flute playing school master, and an educated and traveled man himself even having attended some orchestral concerts in Copenhagen. So, unlike his countrymen at the time, he was doubtless able to distinguish a clarinet from a flute or a horn, for instance. His writing style is thus, however, that it is difficult to tell his flights of fancy from his more serious account of things. Consequently, in the absence of Páll's clarinet there is no way we can ascertain what kind of pipe it really was.

The history of clarinet playing in Iceland parallels the way that any branch of musical culture developed anywhere. It started with amateurism followed by professionalism. What distinguishes the story from the rest of Europe, however, is how fast it all happened. In that regard it reflects the country's exceedingly rapid musical development in the twentieth century, after centuries of standstill and isolation.

Amateurs and semi-professionals. The purely amateur period only lasted for about 30 years, from roughly 1920-50. It was characterized by craftsmen and shop-keepers who after their regular working day played the clarinet for sheer enjoyment in the newly formed Reykavík's City Band (founded 1922) or in the Reykjavík Orchestra (founded 1921); a kind of saloon orchestra which gradually developed into the Iceland Symphony Orchestra (founded 1950). Parallel to this, a semi-professional breed of dance musicians emerged, playing in Reykjavík's handful of clubs and cafés between the great wars. Mainly foreign musicians, at first, they were slowly replaced by native players. In many cases the very same who had started their career as amateurs in the city band or orchestra some years earlier. Thus, the first Icelandic professional clarinet players (more often than not doubling on saxophone) were really dance musicians.

First symphonic professionals. Foreseeing the foundation of a professional symphony orchestra not far off, the time was finally ripe for a trio of young men to venture abroad for serious study of the clarinet. The pioneer was Vilhjálmur Guðjónsson (1917-1977), an already accomplished player, who studied in Los Angeles 1944-46, after which he taught for many years at the Reykjavík College of Music and played in the Iceland Symphony Orchestra as well as in some of its precursors. Among his first pupils at the college of music were Egill Jónsson (1921-71) and Gunnar Egilson (b. 1927) who after further studies abroad (Egill in Manchester; Gunnar in Los Angeles and London) became the Iceland Symphony Orchestra's first and second principals, consecutively. A major inspiration to the young men was the coming of the legendary Reginald Kell to Iceland in 1947 to perform at a Beethoven festival. The choice of all three men of the Anglo-Saxon world in preference to continental Europe, had more to do with the miserable state of the Continent at the end of the war, than any conscious preferences for national schools of playing.2 However, the influence of the British school on Icelandic clarinet playing has remained strong to this day, although more diversity of schools was introduced with a new generation of players in the 1970s.

Second generation professionals. Already mentioned by name as organizers of the conference are the second generation clarinetists of the Iceland Symphony Orchestra. These three, however, were not as unanimous in their choice of country for further education as their predecessors. Einar studied with Bernard Walton and John McCaw in London whereas Sigurður and Kjartan chose to study under Rudolf Jettel in Vienna, and the latter also with Peter Schmidl. Had this, initially, caused some concern with regard to blend and adaptation, that fear has proved groundless. The three have managed to create an excellent ensemble. Whether that is to be attributed to their personal level of adaptability, or the waning influence of national schools on clarinet playing style is an open and interesting question.

The future. We have two concerns – both shared with the rest of the clarinet world: (1) With only one full time professional orchestra in the country, there is extreme shortage of jobs for young and excellently trained players. This is unfortunate, of course, but inevitable in a nation counting only quarter of a million people where it must be viewed as quite an achievement in itself to maintain but one high-caliber professional orchestra. (2) There is small but noticeable trend toward declining enrollment of clarinet students at the lower levels of music education. This is worrying because teaching in Iceland's excellent system of community music schools forms the main income for young players, and provides them with the financial security needed to sustain their efforts at public recitals and other freelance work. However, judging by the high standards of John McCaw's master class in Reykjavík, the future of clarinet playing in this country remains on the whole bright. In order to vitalize the clarinet culture as much as possible, however, the organizers are planning on more Icelandic Clarinet Festivals in the future. The British Embassy in Reykjavík, and The Icelandic Musicians' Union were the main supporters of this first one.


References
Benedikt Gröndal (1826–1907). Dægradvöl (Leisure – An Autobiography), The Years 1835-1842, p. 60.
Armchair discussion with Gunnar Egilson at the First Icelandic Clarinet Festival, Sept. 1, 2002.